Indulge yourself in the famous Greek cuisine
A gastronomic paradise for gourmands, the fine dining options at Lindos Grand Resort & Spa are as luxurious and satisfying as the hotel itself; follow our top chefs into a groundbreaking discovery of local tastes and Greek flavors, with Mediterranean vibes and Far East touches, and explore a rich culinary tradition, sprinkled with international drops. Deep-rooted, revisited and innovative recipes, with locally sourced, seasonal ingredients, contemporary culinary practices and inspired twists are what make Lindos Grand Resort & Spa a gastronomic miracle.
Discover the essence of summer living with your taste buds and explore all the restaurants and bars of Lindos Grand Resort & Spa or enjoy the luxury of privacy in your room and enjoy your breakfast in your swimming pool with our exclusive floating tray service!
Dress to Impress Code: In line with the bohemian spirit and vibe of the hotel gentlemen are kindly required to wear long trousers or smart casual fabric bermudas during dinner in all A La Carte Restaurants of the resort, the All Day Dining Restaurant "Terra Mare" & "Atmos" Lounge. Ladies are encouraged to also wear elegant evening summer apparel. Please refrain from wearing flip flops during dinner in any of the restaurants.
Main Buffet Restaurant
Terra Mare
Breakfast is the most important meal of the day, so make sure you fuel up at Terra Mare main buffet restaurant. Greek style breakfast is offered daily at show cooking stations while at dinner time, our top chefs take you on a flavorful trip all around the world with our ethnic Themed Nights (Asian, Italian, Greek, Fish, International).
Main Restaurant Operating Hours: 07:00 to 10:30 hrs | 19:00 to 21:30 hrs
Early Continental Breakfast: 05:30 to 07:00 hrs (on request)
Breakfast (American Style & show cooking stations): 07:00 to 10:30 hrs
In Room Breakfast (surcharge): 07:00 to 11:30 hrs
Dinner (Buffet Style): 19:00 to 21:30 hrs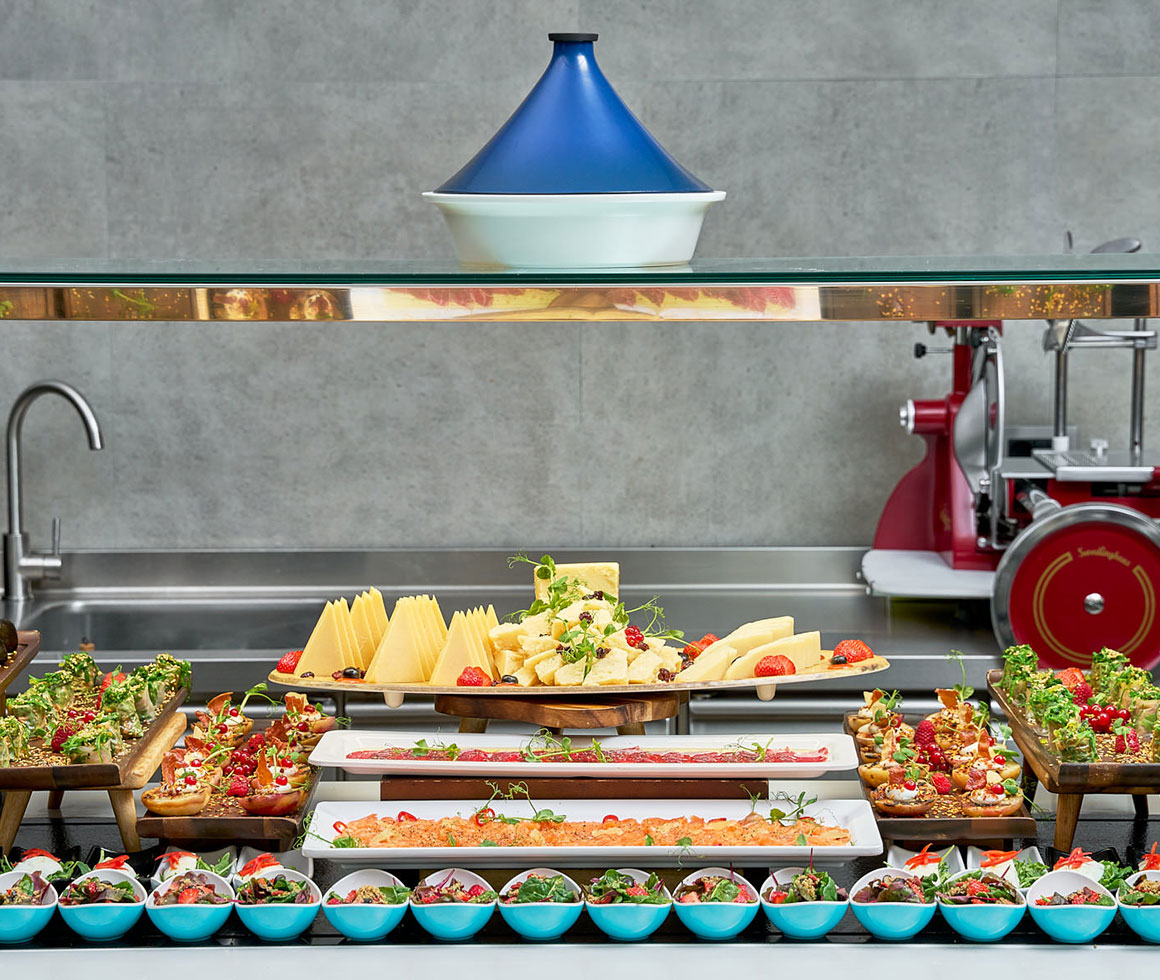 Casual Day Restaurant
Acqua e Sale
Continue to enjoy the alluring ambiance of the Lindos Grand Resort & Spa whilst enjoying delightful International Cuisine, with an exquisite selection of summery main courses, hearty snacks & salads that celebrate the summer in their own, delicious way!
Opening Hours: 12:00 to 18:00 hrs (last order 17:30)
Mediterranean Cuisine
Thalatta Fine Dinning Restaurant
Discover the diverse gastronomic tradition of the Dodecanese region, Greece and the entire Mediterranean Sea at Thalatta Fine Dining Restaurant. Here traditional recipes take new life and become contemporary again, with the creative inspiration of our Thalatta's top chefs. Locally sourced organic ingredients, fresh delicacies from the blessed earth and the pure Sea of the Aegean are deliciously paired with a glass of chilled wine, from our fine selection of the best of the local vinery has to offer.
Savor the Mediterranean on your table, travel to ancient Greece, Homer's age and beyond and feel like a God on ambrosia and nectar. Here you will discover quality ingredients that are both flavorful and healthy, the elements of a sought after lifestyle that gifts longevity and well-being and invites you to a new era, a holistic way of life.
Opening hours: 19:30 to 22:30 (last order 22:00)
Thalatta Fine Dining Restaurant operates daily except Sundays.
View Menu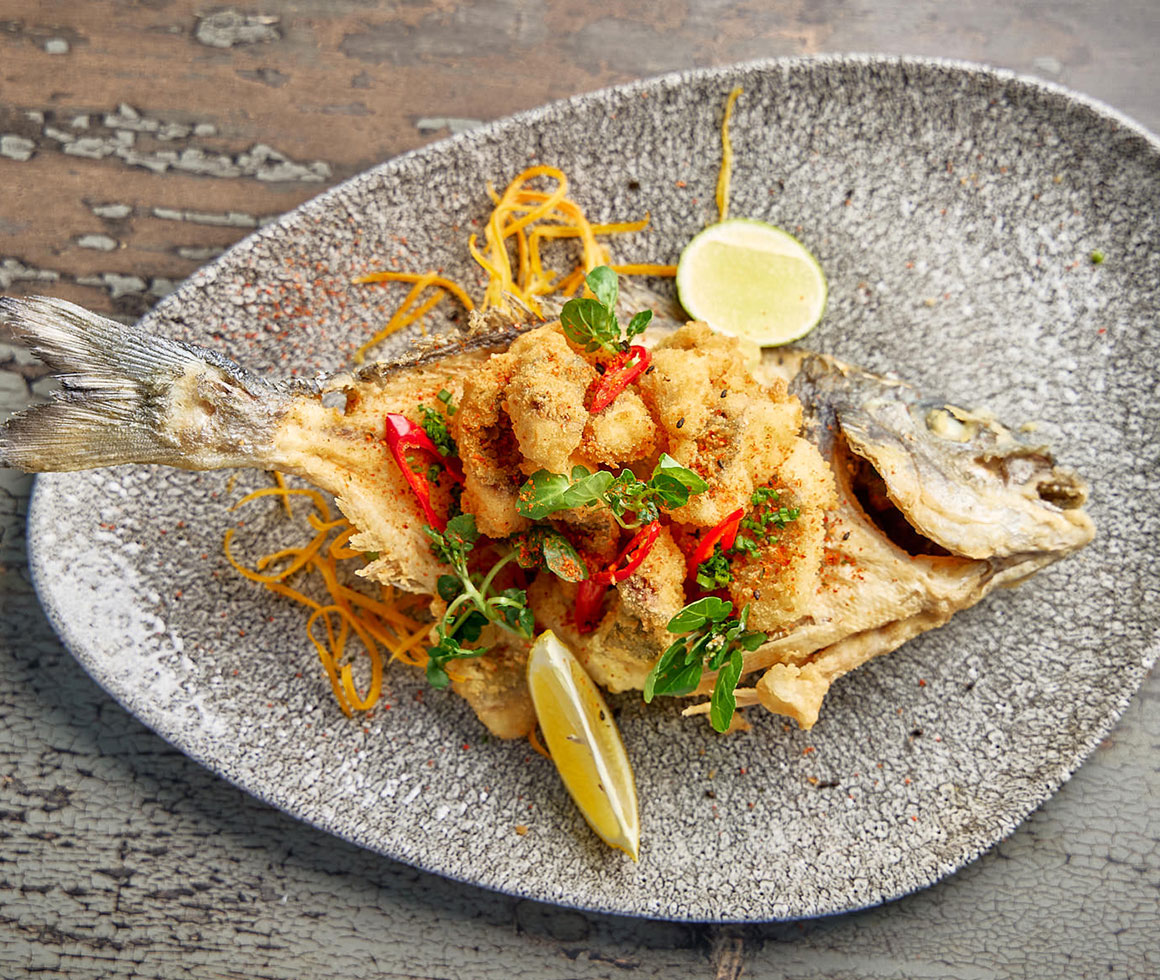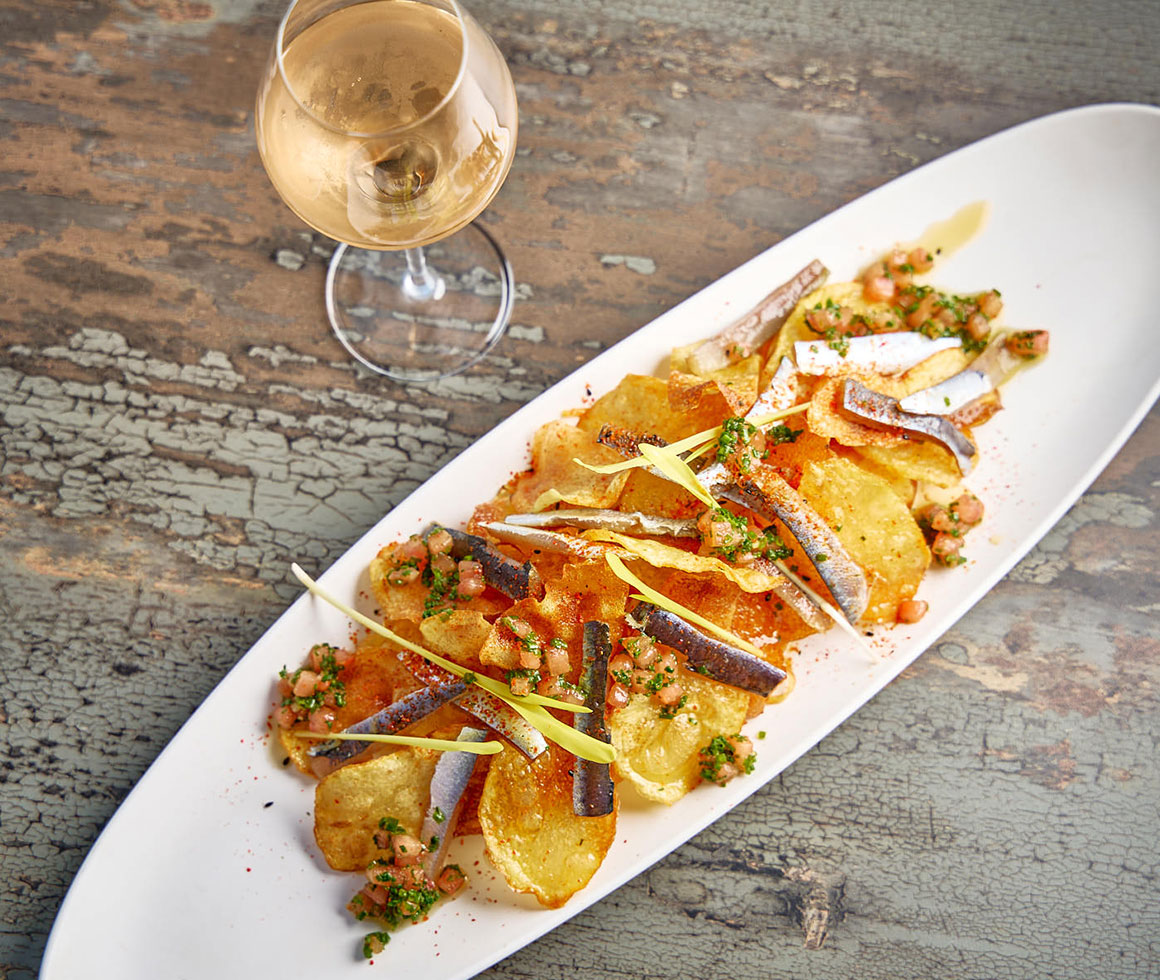 Fish Restaurant
Agistri Greek Fish Restaurant
Feel like a local islander and enjoy the fresh catch of the day with good company and local distilled beverages on ice – the epitome of summer living! Right from the sea bottom to your plate, tiny sand smelt, the ultimate delicaty of sea urchin, the favorite lobster and shrimp, groupers, seabass, red mullets and sea bream will become your favorite choices and will always remind you of the taste of Greece!
Follow your seafood feast with chilled summer fruit like water melon and shorbet in various flavors to refresh your palate!
Opening hours: 19:30 to 22:30 (last order 22:00)
Agistri Restaurant operates daily except Thursday.
Ristorante Italiano
La Cucina
Delicious homemade pasta & inimitable Italian mouthwatering risotti paired with creative antipasti and insalate or a fine thin crust pizza create for you an Italian feast for the eyes and palate! A sweet ending to your meal with a typical Italian panacotta or tiramisu & an espresso shot will transport you right on an Italian piazza. Bon Appetito!
Opening hours: 19:30 to 22:30 (last order 22:00)
La Cucina Restaurant operates daily except Monday.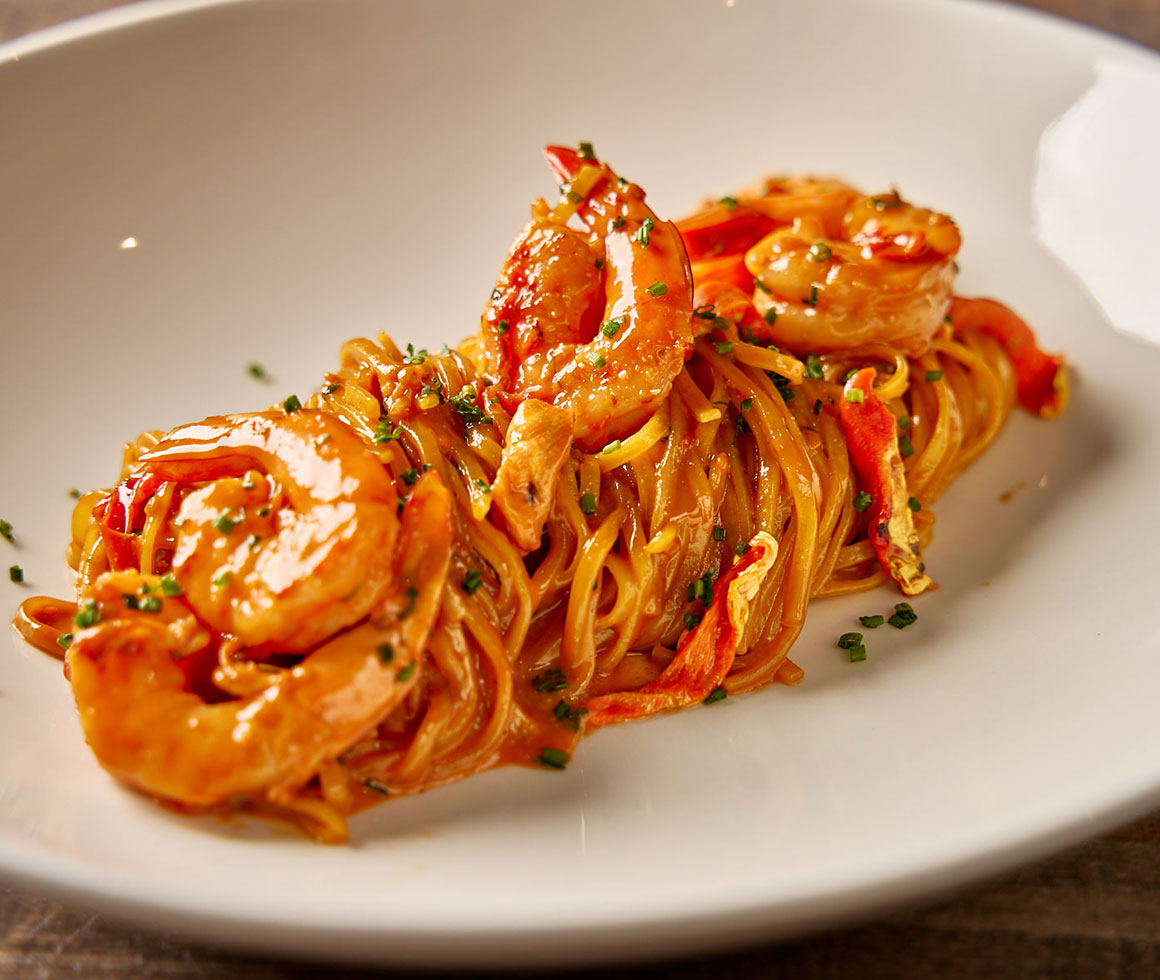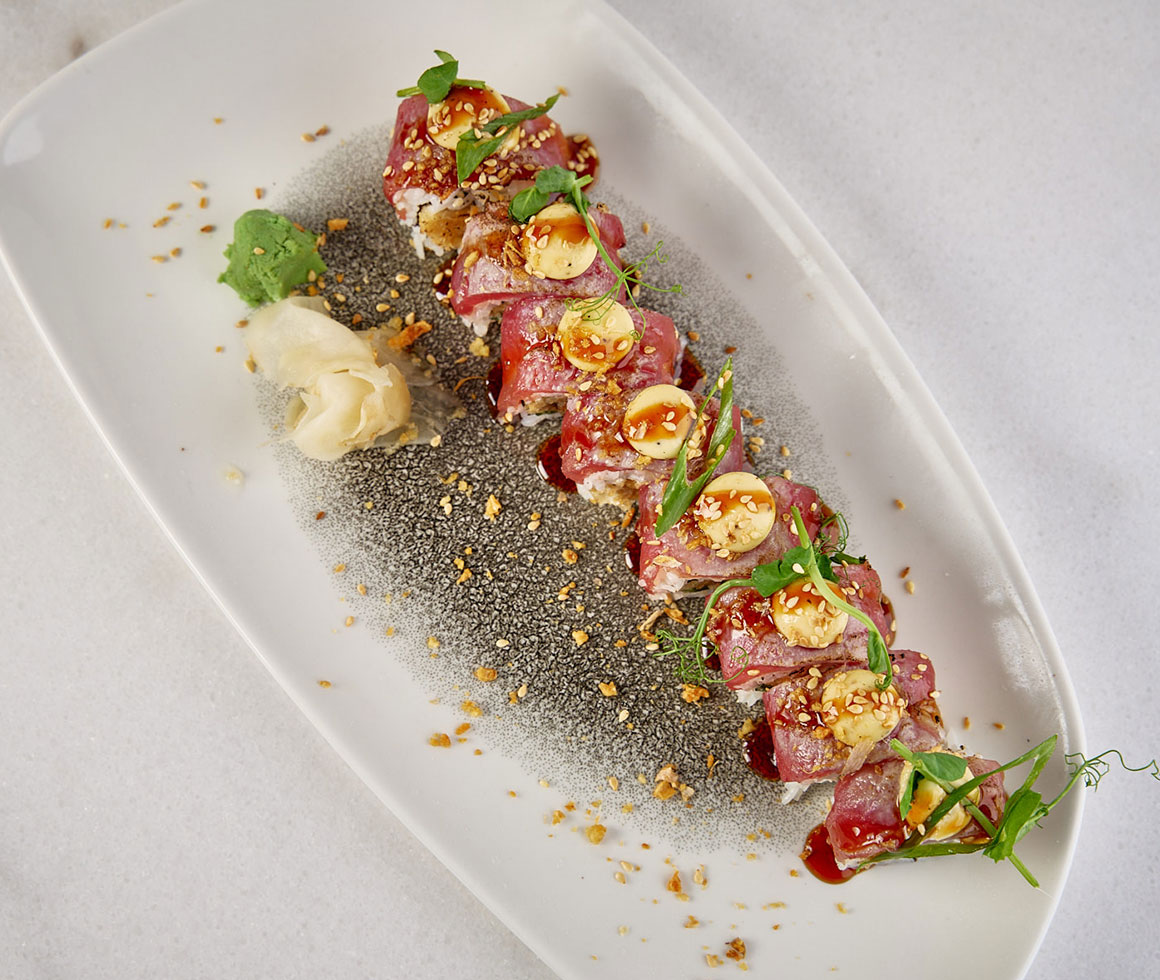 Japanese Restaurant
Yume mou
You are invited to experience original sushi flavors by our Chefs, who will create the most elegant and fine combinations based on fresh ingredients and mouthwatering flavors.
Opening hours: 19:30 to 22:30 hrs (last order 22:00)
Yume Mou Restaurant operates daily except Wednesday.
Asian Restaurant
Takara Asian Restaurant
Leave the Mediterranean behind for a while to embark on a remarkable journey of Asian flavors & aromas with our selection of Thai, Japanese & greater Orient area dishes served to you by our talented chefs & service team members. Surprise your taste buds with some refreshing lichi ice cream with a sake shot that will leave you want for more. Sawadee Ka!
Opening hours: 19:30 to 22:30 (last order 22:00)
Takara Asian Restaurant operates daily except Tuesday.
Lobby Bar
Blanc de Blancs Lounge
A chic and stylish lounge that cannot be missed! Situated on the main lobby area expanding to a large terrace with unpararelled sea views, invites you to try refreshing cocktails or mocktails from our top mixologists. Enjoy the vibe of summer in Greece and live unforgettable days and nights at Blanc de Blancs Lounge.
Opening hours: 10:00 to 24:00 hrs
Shisha Lounge
Atmos Sky Lounge
Whether you call it hubbly-bubbly, shisha or nargileh, this oriental habit has to be experienced at least once during your holiday! Relax at the inviting low seating, marvel at the endless Aegean blue and let your mind and soul breathe in the soothing energy of Rhodes and Vlycha bay.
Opening hours: 19:30 to 23:00 hrs (last order 22:30)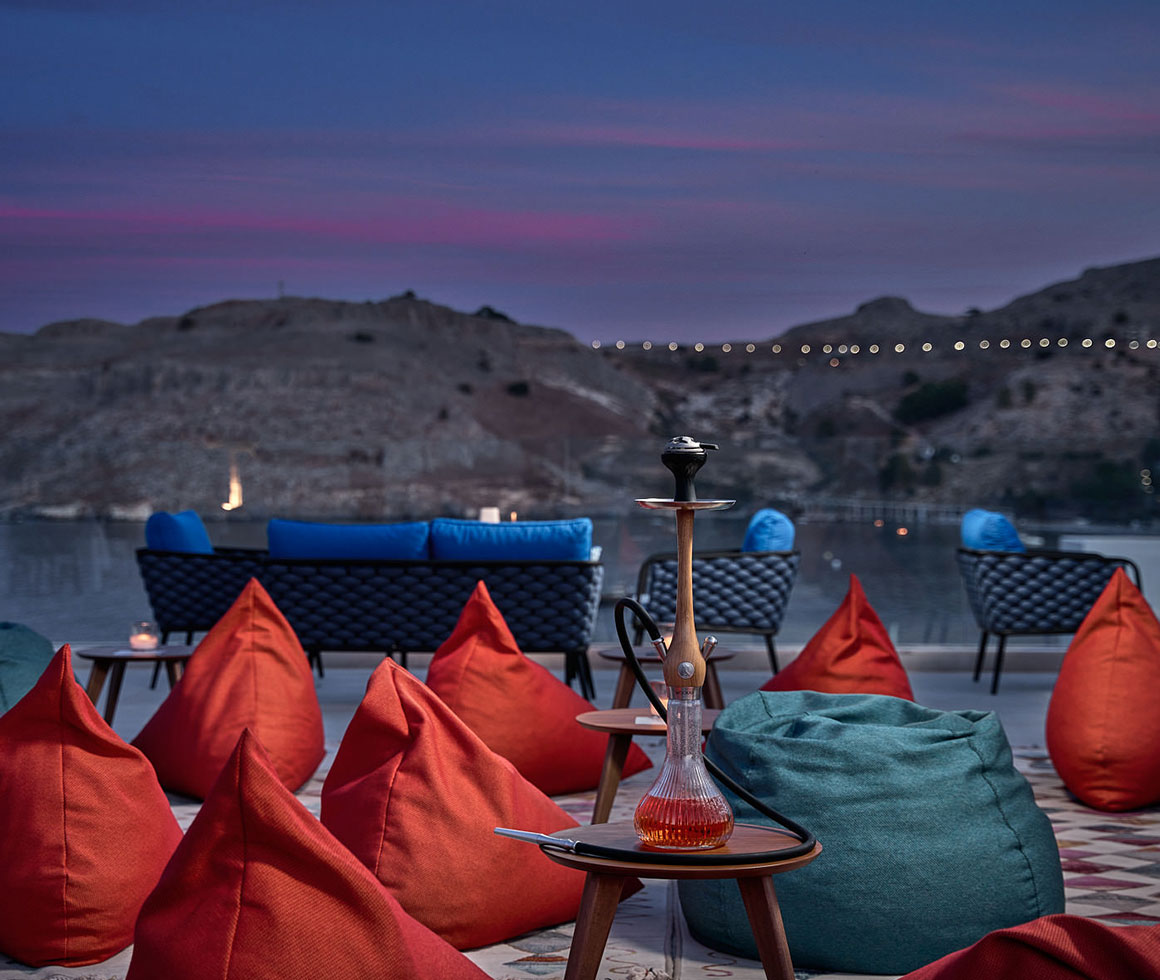 Private Cellar
Enoteca Da Giovanni
If you are looking for a supreme yet exclusive venue for private gatherings, wine tastings & dinners, our Private Cellar is your destination! A fine selection of the best wines of the world, carefully sourced from small or large wineries.
Here you can try wines from Greece, Italy, Spain, Chile or even South Africa & New Zealand paired with premium cold cuts & cheeses or host a business or leisure dinner with the aid of our competent, discreet service team.
Opening hours: 19:30 to 22:00 hrs (last order 21:15)
Esplendido is the hidden secret of Lindos Grand, a cigar lounge with exclusive club feeling that will take you on a journey to the vibrant capital of Cuba, the breathtaking Highlands and further away. Cigar afficionados can enjoy here a Churchill, Montecristo, Davidoff or Romeo & Juliet served with an aged rum, an exclusive scotch or dry, fruity brandy and feel the vibe of the island just a puff away.
Opening hours: 19:00 to 23:00 hrs
Begin each day with a grateful heart and order your Healthful Oriented or Rich American style breakfast at your room from 7am to 11am. Take refuge from the hot sun and enjoy the company of your significant other, ordering delicious snacks, summer salads and main courses in the coolness of your room until 10:30pm. Up for a night snack or early riser? A fine selection of snacks and salads is just a phone call away!
Enjoy the luxury of privacy in your room and enjoy your breakfast in your swimming pool with our exclusive floating tray service!
Operating 24 hours a day
Lindos Hotel's new dine hub programme, offers both variety and flexibility, when it comes to dining options. With various discounts and complimentary dinners on offer, there is no better way to explore the array of gastronomical delights that are spread across Lindos Grand, Lindos Village & Lindos Royal.
The DINE HUB programme serves to enhance the culinary experience for each guest. With the following new dining opportunities, guests of Lindos Hotels can access and make the most of their stay, by tasting a variety of different cuisines.
READ MORE